Folding Clotheslines Perth
Your one stop shop for the purchase, delivery and installation of folding clotheslines in Perth, WA.
People who don't have much space for their clothes drying will benefit from folding clotheslines particularly the ones who don't have enough space for the widely used rotary clothesline.
Folding clotheslines makes it possible for everyone, even for the people with limited space or no space at all for drying clothes, to have fresh smelling clothes because they have received the sunlight they need to dry naturally.
Folding clotheslines come in different styles and sizes to cater everybody's needs and preferences. Some of the prominent manufacturers of folding clotheslines are

City living folding clotheslines
Hills folding clotheslines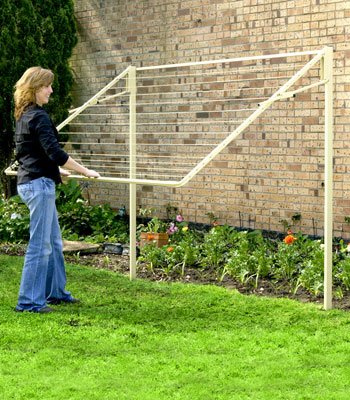 Folding Clothes lines Installation
Folding clotheslines can be installed in two ways:
Wall mounted folding clothes lines

Ground mounted folding clothes lines
Depending on the living situation, folding clotheslines can be mounted to a brick, clad wall or rendered. It's the standard installation but they can be mounted in the ground as well. A base in the ground can be used to secure the poles of folding clothesline.
If you don't know the right clotheslines for you or you need assistance to have them installed, we'll gladly assist you with your new clothesline installation.