Clotheslines Perth
Your one stop shop for the purchase, delivery and installation of clotheslines in Perth, WA.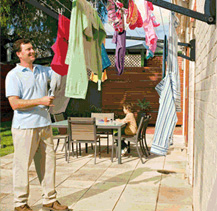 Family owned & operated
Wide Range….Quality products….Best Price
Friendly professional service & Advice
Prompt efficient & trustworthy service
No job too big……or small
Specialising in cutomising & repairs
Looking for a new clothesline, washing line or clothesline installer in Perth?
You have come to the best place! Perth clotheslines are the leading online retailer of clotheslines in Perth WA. Perth clotheslines supplies, delivers and installs clothes lines throughout Perth, including:
Now you can discover a great collection of clothes line and washing lines available for either indoor or outdoor use.
If you have any queries or you'd like to speak to an actual person, please feel free to phone us on 0409 083 805 today!
Latest Product
Special Offer


Testimonials

Great service! My retractable clothesline was delivered and installed really quickly, the guys also removed my old broken down model. I'm really happy with ...

Clotheslines